Chinese surveillance firm builds influence in Washington, with help from former members of Congress
Former lawmakers have registered as foreign agents for the U.S. branch of Hikvision, the maker of cameras used to monitor Uyghur Muslims in China's detention camps.
Listen to article5 min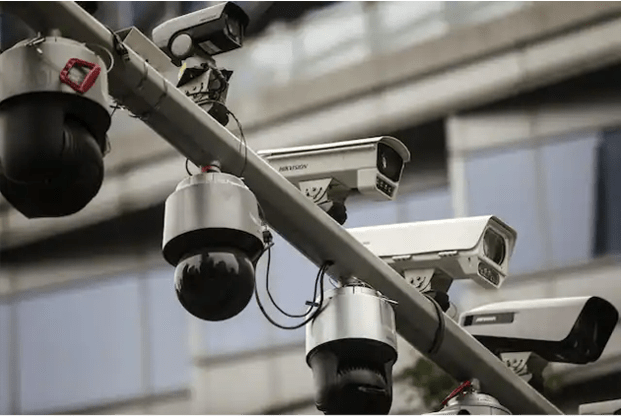 By Drew HarwellJune 25, 2021 at 7:19 p.m. EDT223
The Chinese tech giant Hikvision, accused of helping the Chinese government's campaign against the Uyghur minority, has turned to former members of Congress to lobby on its behalf as the United States imposes a series of measures limiting its ability to do business with American companies and investors.
Former U.S. representative Anthony "Toby" Moffett (D-Conn.), who served eight years in the House until 1983 and now works at the prominent Washington firm Mercury Public Affairs, will lobby for Hikvision's U.S. subsidiary on issues related to the National Defense Authorization Act and engage with members of the State, Treasury and Commerce departments, according to a Foreign Agents Registration Act filing made public Thursday.
Moffett will join former senator David Vitter (R-La.) in lobbying for a company racing to defend itself in Washington amid questions over its links to Chinese government surveillance and oppression. Another former senator, Barbara Boxer (D-Calif.), registered to lobby for the company, but withdrew from that representation in January amid public criticism.
Earlier this month, the Biden administration banned Americans from investing in the company, citing its links to the Chinese military. Hikvision, whose largest shareholder is owned by the Chinese government, faces another critical threat from U.S. regulators who are considering whether to issue a nationwide ban on purchases of the firm's equipment.
"It's alarming that Hikvision has repeatedly bought influence from former members of Congress while being controlled by the People's Republic of China government," said Don Maye, head of operations at the surveillance research group IPVM.
Biden expands Trump order by banning U.S. investment in Chinese companies linked to the military or surveillance technology
Representatives of Mercury Public Affairs and Hikvision did not respond to requests for comment. Hikvision has said that it takes reports of human rights abuse "very seriously" and has engaged with the U.S. government to "address their concerns."
Moffett in April donated $2,000 to the campaign of Sen. Richard Blumenthal (D-Conn), who on Twitter has criticized the "insidious spying & surveillance" of Chinese companies. After The Washington Post requested comment Friday, Blumenthal representatives said they'd returned the full contribution. An aide said Blumenthal had been unaware of Moffett's work on Hikvision's behalf.
Cameras built by Hikvision, one of the world's biggest surveillance-gear makers, are used to monitor the detention camps holding Uyghur Muslims in China's Xinjiang province, the site of what President Biden has called some of the world's "worst abuses of human rights."
Cities, counties and school districts across the United States have spent hundreds of thousands of dollars buying Hikvision's security and temperature-scanning cameras, used to check for fevers during the coronavirus pandemic, according to contract data reported last month by TechCrunch.
In December, the London-based tech research firm Top10VPN estimated that Hikvision devices were present in hundreds of thousands of American camera networks, including more than 20,000 in New York City.
Hikvision was banned for federal use in 2018, added to a government blacklist in 2019 and barred from buying components from U.S. companies last year on claims that its surveillance technology had aided the Chinese military. The Biden administration expanded the prohibition in an executive order this month that blocked all U.S. investment in the company, which is listed on the Shenzhen Stock Exchange with shares worth roughly $600 billion.
Although Congress has barred federal agencies from signing or renewing contracts for Hikvision devices, individuals can still legally buy them in stores or on the Internet; many are relabeled under a different brand name.
Biden administration bars imports of solar panels linked to forced labor in China's Xinjiang region
U.S. intelligence officials have voiced concerns that the cameras could be used to spy on people around the world, a claim the company has denied, saying there is no evidence that camera data is relayed to China.
Moffett's hiring will contribute to Hikvision's increasingly influential Washington lobbying team. Vitter, a former two-term Republican senator from Louisiana who now works at Mercury, began representing Hikvision's lobbying team in 2019, saying in a companywide conference call leaked that year that his goal was to "make sure Hikvision survived in the United States."
Biden's inaugural committee in January returned a $500 donation from Boxer (D-Calif.) after reports that she had registered as a Hikvision agent. Boxer, who stopped working for the firm that month, said in a statement then that she believed her work for the company was "an opportunity to make things better while helping protect and create American jobs."
Huawei official speaks out on why he resigned after The Post reported the tech giant had worked on a 'Uighur alarm'
In March, the Federal Communications Commission said devices from Hikvision, Huawei and other Chinese companies "pose an unacceptable risk to U.S. national security," dealing a critical blow to the companies' ability to operate.
The FCC voted last week to proceed toward a potential ban on all future authorizations of those firms' products and will vote next month on whether to reimburse U.S. companies for the costs of removing and replacing Hikvision gear.
Moffett advised Biden's failed presidential campaign in 2008 and has worked as a strategist for several Democratic House campaigns.
The FARA filing did not list Moffett's payment but said he also will consult for the Libyan government, a business group in Turkey and a government ministry in Zimbabwe.